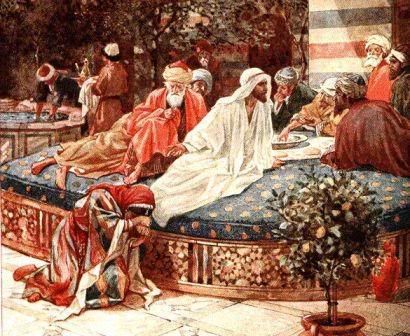 A dinner was prepared in Jesus' honor. Martha served, and Lazarus was among those who ate with him. Then Mary took a twelve-ounce jar of expensive perfume made from essence of nard, and she anointed Jesus' feet with it, wiping his feet with her hair. The house was filled with the fragrance.

But Judas Iscariot, the disciple who would soon betray him, said, "That perfume was worth a year's wages. It should have been sold and the money given to the poor." Not that he cared for the poor—he was a thief, and since he was in charge of the disciples' money, he often stole some for himself.

Jesus replied, "Leave her alone. She did this in preparation for my burial. You will always have the poor among you, but you will not always have me."
John 12:2-8 (NLT)
I gave Jesus a few minutes of my time. I hastily finished my devotions and prayed to God just because I need to continue on with my studies. If I feel that giving Jesus a few minutes of my time is enough so long as I did spend time with Him, I don't think I'm giving Jesus my all.
The world tells us:
Study is everything. It determines your future. If you don't study, you have no future.
The world tells you that you should spend your time studying. The father of all lies tells you that it's a waste giving your time to Jesus. He hates you taking your time aside- even 1 second of your time for Jesus.
Are you having the Judas's thinking that your time should be given to engage in other things than to give them to Jesus? Are you selling your time to things that will not last?
My prayer for everyone reading this today is that we will not consider or compromise other things above Jesus. My prayer is that we won't be feeling guilty just because we have spent too much time with Jesus that we begin to feel regretful. I don't want to count the amount of offerings I am giving to Jesus; I don't want my left hand to know what my right hand is doing
(Matthew 6:3)
. All I desire, is for myself to have the mindset of Mary: to pour out everything I have to Jesus.
Mary knew that Jesus was worth that amount of perfume; Jesus was more worth than a year's wages.
In fact, Jesus is worth even more than that- He paid a debt He didn't owe!
I don't want to care about the amount that I am giving to Jesus. Even though Jesus deserved more than that, all I know is that I will give everything to Jesus, because He is worth it all. Give Jesus everything today. Surrender and open your hearts to the King.
No matter what the cost, O Lord, everything is worth pouring out. You are worth it all Jesus. Take all of me.