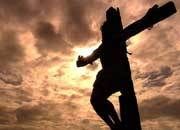 "Father, if you are willing, please take this cup of suffering away from me. Yet I want your will to be done, not mine." Then an angel from heaven appeared and strengthened him. He prayed more fervently, and he was in such agony of spirit that his sweat fell to the ground like great drops of blood.
Luke 22:42-44 (NLT)
Put yourself in Jesus's shoes. You are going to be betrayed by your disciple and are going to be sent to be crucified. I believe you, even I, will be praying like Jesus, for the cup of suffering to be taken away from me. Yet it was for God's will for all to be saved through Jesus. Thankfully, Jesus endured the cross, and now, because of the victory on the cross, we can have this beautiful exchange:
1) Punishment to eternal life
Yet it was our weaknesses he carried; it was our sorrows that weighed him down. And we thought his troubles were a punishment from God, a punishment for his own sins!
Isaiah 53:4 (NLT)

For the wages of sin is death, but the free gift of God is eternal life through Christ Jesus our Lord.
Romans 6:23 (NLT)
Whatever that Jesus bore - shame, humiliation, torture, death (John 19), we were all supposed to bear these things, given that we are sinful. But Jesus took what we deserved - our punishment, in exchange for us to have eternal life.
2) The old self to a new creation
This means that anyone who belongs to Christ has become a new person. The old life is gone; a new life has begun!
2 Corinthians 5:17 (NLT)

We know that our old sinful selves were crucified with Christ so that sin might lose its power in our lives. We are no longer slaves to sin.
Romans 6:6 (NLT)
When we accept Jesus as our personal Lord and Saviour, our old self was crucified at the cross, and through Christ's death, we exchange our old self to a new creation. We are no longer slaves to sin; we are children of the Most High God!
For we know that when this earthly tent we live in is taken down (that is, when we die and leave this earthly body), we will have a house in heaven, an eternal body made for us by God himself and not by human hands. We grow weary in our present bodies, and we long to put on our heavenly bodies like new clothing. For we will put on heavenly bodies; we will not be spirits without bodies. While we live in these earthly bodies, we groan and sigh, but it's not that we want to die and get rid of these bodies that clothe us. Rather, we want to put on our new bodies so that these dying bodies will be swallowed up by life.
2 Corinthians 5:1-4 (NLT)
God also promises us that when we leave our physical body, we will have heavenly new bodies specially handcrafted by God!
3) Sickness to wholeness
But he was pierced for our rebellion, crushed for our sins. He was beaten so we could be whole. He was whipped so we could be healed.

Isaiah 53:5 (NLT)
Jesus was beaten so that we could exchange our sickness for healing. If you are currently sick, no matter how minor the illness may be, begin to declare that you will be made whole because of the whippings Jesus endured on the cross. Let the weak say I am strong!
4) Defeat to continuous victory
For every child of God defeats this evil world, and we achieve this victory through our faith.

1 John 5:4 (NLT)




Together they will go to war against the Lamb, but the Lamb will defeat them because he is Lord of all lords and King of all kings. And his called and chosen and faithful ones will be with him.

Revelation 17:14 (NLT)
You may have failed before, and you deemed yourself as a failure for life. How can you determine your past like a prophecy book? Your past is a history book, and it is a crossover to let success reign in your life when you are determined to say:
"I will not walk back to this again!"
You may currently be suffering from addictions now, and no matter how much you tried to kick that off, it refuses to leave your life. Friend, begin to declare the victory of Jesus upon your life! If Jesus can conqueror and triumph over death on the cross, what makes you think you are going to stay a failure forever? Exchange your past defeat to a constant victory through Jesus!
What a beautiful exchange! Thank Jesus for what He has done, and start claiming the promises He has for your life. You are loved by Jesus today and forever!
Lastly, just wanna share a song that I just heard today after I blogged. I didn't know this song existed haha! :D
A Beautiful Exchange
Lyrics:
You were near
Though I was distant
Disillusioned I was lost and insecure

Still mercy fought
For my attention
You were waiting at the door
Then I let You in

Trading Your life
For my offenses
For my redemption
You carried all the blame

Breaking the curse
Of our condition
Perfection took our place

When only love
Could make a way
You gave Your life
In a beautiful exchange

My burden erase, my life forgiven
There is nothing that could take this love away

My only desire, and sole ambition
Is to love You just the same

When only love
Could make a way
You gave Your life
In a beautiful exchange

When only love
Could break these chains
You gave Your life
In a beautiful exchange

Holy are You God
Holy is Your name
With everything I've got
My heart will sing how I love You