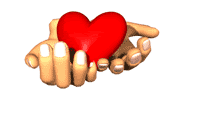 Most people, unless cold-blooded, will have a heart of sympathy. But when it comes to having a heart of compassion, not many people possess this.
For instance, you may be walking on a street and you notice some random, shabby guy lost and badly injured. His face suggested to you that he wanted to ask someone for directions to the nearest clinic. Most people may walk pass him, or feel that he is pitiful. Less people will go all the way to help him and make sure he gets to the clinic.
There are so many situations that most people can show their sympathy towards a person, but how many people will ever show their compassion?
How many people will stretch out their hands to help someone in need? How many people will help someone who has a problem and make sure their problem is solved?
The bible differentiates the outcome of those who stretch forward and lend a helping hand, to those who merely empathize over that situation:
"Then the King will say to those on his right, 'Come, you who are blessed by my Father, inherit the Kingdom prepared for you from the creation of the world. For I was hungry, and you fed me. I was thirsty, and you gave me a drink. I was a stranger, and you invited me into your home.

I was naked, and you gave me clothing. I was sick, and you cared for me. I was in prison, and you visited me.'
"Then these righteous ones will reply, 'Lord, when did we ever see you hungry and feed you? Or thirsty and give you something to drink? Or a stranger and show you hospitality? Or naked and give you clothing?

When did we ever see you sick or in prison and visit you?

"And the King will say, 'I tell you the truth, when you did it to one of the least of these my brothers and sisters, you were doing it to me!'
Matthew 25:34-40 (NLT)
For those who possess a heart of compassion, God allow them to inherit from the kingdom of heaven. For one of the least of those brothers, God still regards them as precious in the family of God.
For I was hungry, and you didn't feed me. I was thirsty, and you didn't give me a drink.




I was a stranger, and you didn't invite me into your home. I was naked, and you didn't give me clothing. I was sick and in prison, and you didn't visit me.'




"Then they will reply, 'Lord, when did we ever see you hungry or thirsty or a stranger or naked or sick or in prison, and not help you?'




"And he will answer, 'I tell you the truth, when you refused to help the least of these my brothers and sisters, you were refusing to help me.'

Matthew 25:42-45 (NLT)
But for those who refuse to help when the least of those brothers are facing with problems, merely stating to them that they feel with their situation, they were going away to eternal punishment:
"And they will go away into eternal punishment, but the righteous will go into eternal life."

Matthew 25:46 (NLT)
I rather desire to possess a heart of compassion so that when anyone is in need, I will never turn them away…