Faith
Giving Everything - Part 3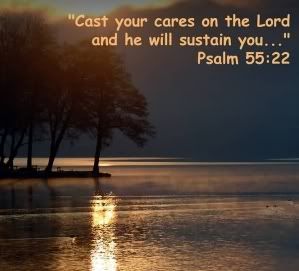 Having big loads of problems at hand, sometimes it is hard to focus on God. Worrying will always be the first thing that comes to mind. Gradually, I realised that I became so weary about having to worry. There are bound to be cramping of negative thoughts, dashing all hopes for solutions. Soon, I would find myself becoming a professional escapist of problems.
Trust in the LORD with all your heart;
do not depend on your own understanding. Seek his will in all you do,
and he will show you which path to take.
Proverbs 3:5-6 (NLT)
Complaining would be another thing that I will sometimes do. I don't blame God that problems are happening, but I will complain and constantly ask when the end will come. Soon I realised that complaining won't solve the problem.
Do everything without complaining and arguing, so that no one can criticize you. Live clean, innocent lives as children of God, shining like bright lights in a world full of crooked and perverse people.
Philippians 2:14-15 (NLT)
God didn't place problems in our life to bring us down or to train us to become professional escapist of problems. Thinking deep, worrying, complaining and blaming ain't any solution to solving problems, for it will still knock at your door, waiting for you to solve them.
These problems are placed there to reshape us, let our faith arise, and to teach us to be totally reliant on God:
You will keep in perfect peace
all who trust in you,
all whose thoughts are fixed on you!

Trust in the LORD always,
for the LORD GOD is the eternal Rock.
Isaiah 26:3-4 (NLT)
"But God, if I fully depend on You, I won't be able to prove to You that I can solve this problem myself."
Sometimes I long to prove to God that I can walk through these myself, and I found myself rejecting the help of God. However, it was only until later that I knew that I cannot depend on my own strength, for the strength that I have is just so limited.
I need to fully surrender myself to God and die to self daily. Stop having to struggle with that heavy load of burdens and problems. Cast them all upon God. Give Him everything today!
Give your burdens to the LORD,
and he will take care of you.
He will not permit the godly to slip and fall.
Psalm 55:22 (NLT)
"Don't tell God how big the storm is. Tell the storm how big Your God is."