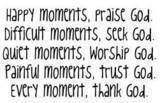 O Lord my God, you have performed many wonders for us.
Your plans for us are too numerous to list.
If I tried to recite all your wonderful deeds,
I would never come to the end of them.
Psalm 40:5 (NLT)
After reading this verse, I decided to take some time to think about the things that God has done through my life. Immediately I started thanking God as I thought for a while and he begin to remind me of uncountable events when He healed and forgave me, I stood in awe of Him. Indeed, like what David the psalmist wrote, you will never be able to recount those great wonders that God had done, and is going to continue doing in and through your life!
While I was busy thinking about the great wonders that God has done, I felt that God was reminding me about this post that He led me to write on:
Forgotten hands.
Through this post, He reminded me that there may be some occasions, when things are just not going right at home, or when my prayers just don't seem to be answered, instead of just emo-ing at one spot and repeatedly question God why things turn out that way, or forgetting to give Him the praise He deserves for each day, what He wanted me to do was to recall every good thing that He had done in the past, and then praise Him even when it seemed impossible, and trust in what He says:
"If I could do great wonders in the past; if I brought breakthroughs in your life previously, nothing will be too hard for me now, even for this situation. For whatever I can do in the past, I will bring you through it, for I am more than able!"
Also, when I was looking through the list, God showed me past deeds that He has done. However, having moved on in life, it seems that I have forgotten some great deeds that He has done in the past. Having this whole list now, it served as a reminder, not only as a tool during my hardest times, but also for me to constantly give Jesus the praise that He deserves.
I said to the Lord, "You are my Master!
Every good thing I have comes from you."
Psalm 16:2 (NLT)
Ask me and I will tell you remarkable secrets you do not know about things to come.
Jeremiah 33:3 (NLT)
Always have a grateful heart for what God has done, and is about to do in your life. And, never take anything that God has been doing for you lightly or forget about it and throw it at one side. Jesus has been great, and will never ever do things that will harm your future. :)
How can I not praise
When you have done so much great things in my life?
I will not stay silent anymore
For you alone are worthy
Who can I still sing all my praises to?
I may find some great friends on this earth worthy to be praise
But, thinking properly
These are the friends that you have given to me
Who can I find in this world so worthy to be praise but you?
You alone are a loving God
And this is why I'll continue to praise!
Praise the L

ord

!
How good to sing praises to our God!
How delightful and how fitting!
Psalm 147:1 (NLT)