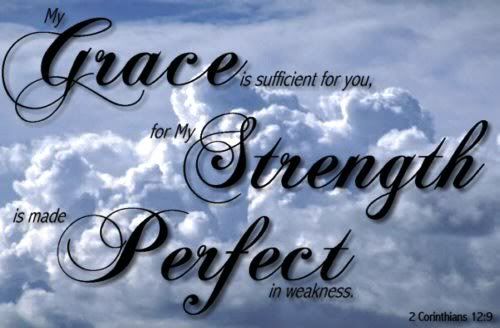 I am thankful to Jesus for His awesome love and grace pouring all over me. This is the first time I experienced God in such a strong way, and I am glad that God has placed people in my life who have been such a great encouragement in my life. You people know who you are yea; I believe I do not need to say names. :p
God is shifting me into a season where He is going to break down those walls that have been stopping Him from getting closer to me, one of which is the part where I have explained in the earliest post, routine after routine. Feeling so tired doing things for the sake of doing, I realized that after some time I would begin to ask God why my relationship with Him will always be at that position. And God is so great that He has been giving me time to reflect on my walk with Him, granting me rest in His presence. God is a patient God.
Also, God wanted me to realize that He can only tear down the walls if only I will let Him do it. One wall which, I think until now, which I am still unable to let go, is the wall of my past. That wall was getting thicker and thicker, blocking God from entering. Moreover, to make things worse, the devil has been putting lies into my head, which really made me feel that I am so unworthy and that I am not really going to get closer to God anymore. Because the lies sound so real, I found myself believing the lies and falling into his trap, and I was actually quite angry with myself. Thankfully, on Saturday, God set me free and I was emotionally healed.
Every day, never without fail, God will remind me that He is not the Father that I've imagined Him to be in the past, and He wants to set me free every single day. So I have been praying for daily surrender and encounters with Him, as I know that, only when I rest totally in His presence, I will have a sense of deep peace. And I am really glad that God is always faithful to what He says.
And today, all I do is to come to God in brokenness, telling Him that I am weak and I cannot stand on my own. I cannot overcome those lies on my own nor heal myself of those past wounds. I do not feel ashamed coming into God's presence asking Him to come through in my situation, or admit to Him that I'm weak, for I am aware that I can't do without Him. If I act strong and tell God that I do not even need Him, how can He get closer to me and do what He wants to do in my life?
So, just want to encourage you people to continue leaning of God and believe that He is greater and bigger in the situations that you are going through now, so stand on His promise and just surrender… :)
All I can tell God:
"Use me, God, even when I'm broken and weak..."
He gives strength to the weary and increases the power of the weak.
Isaiah 40:29
"My grace is sufficient for you, for my power is made perfect in weakness." Therefore I will boast all the more gladly about my weaknesses, so that Christ's power may rest on me.
2 Corinthians 12:9