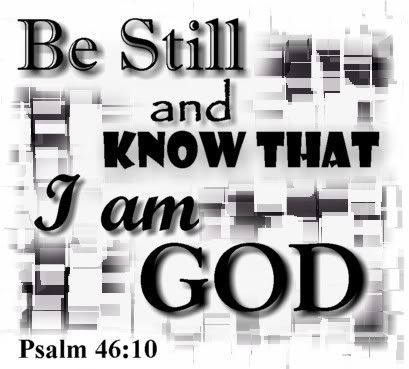 God places trials in our lives for a purpose:
to let our faith grow.
Sometimes the road of trials may be hard to walk, and we may stumble and fall.
For me, God has been constantly reminding me to trust in Him in times of trials. When I ask God:
"Why must such things happen to me?"
or
"Why must the situation be this way?"
The same reply comes back:
put your trust in me.
I know that when I depend on my limited strength to walk the trials, I will find myself constantly falling down, day after day, because I am powerless; I can't seem to put any hope in myself.
But when I put my trust in Jesus, I know I can walk out of these trials victoriously.
However, often when I see the problems constantly taking place, as though there is no solution, I will start to think negatively and constantly question God:
"Why? Why? Why did things turn out this way?"
I can't stop thinking pessimistically.
Today, God leads me to read these few verses:
As Pharaoh approached, the Israelites looked up, and there were Egyptians, marching after them. They were terrified and cried out to the LORD. They said to Moses, "Was it because there were no graves in Egypt that you brought us to the desert to die? What have you done to us by bringing us out of Egypt? Didn't we say to you in Egypt, 'Leave us alone; let us serve the Egyptians?' It would have been better for us to serve the Egyptians than to die in the desert!"
Moses answered the people, "Do not be afraid. Stand firm and you will see the deliverance the LORD will bring you today. The Egyptians you see today you will never see again. The LORD will fight for you; you need only to be still."
Exodus 14:10-14
At that time, seeing the enemies approaching, the Israelites thought that there was going to be no hope for their situation. Then they started asking Moses why things turn out the way that they did not want to happen. They thought that the situation was hopeless and they are going to be dead. Then, Moses assured the people that God is going to fight for them; all they needed to do is to be still and trust in God.
Similarly, trials are like that. When the situation seems dead, and we don't see God working the solution out yet, and when He expects us to be patient and wait, we will keep questioning God as we want to know when the trials are going to be over, and what is the solution to these trials. Like the Israelites, we may start to be impatient when waiting for the trials to be over.
Right now, God is telling us not to be afraid; stand firm, trust in Him, and be still. It's not always about questioning God
why, why and why
. It's about trusting in Him...
"Be still, and know that I am God; I will be exalted among the nations, I will be exalted in the earth."
Psalm 46:10
You are those who have stood by me in my trials.
Luke 22:28
In all this you greatly rejoice, though now for a little while you may have had to suffer grief in all kinds of trials. These have come so that the proven genuineness of your faith— of greater worth than gold, which perishes even though refined by fire— may result in praise, glory and honor when Jesus Christ is revealed.
Remember that God put these trials in our life for a reason. Yes, sufferings in the trials may dampen our spirits and sometimes lower our faith, but when we are conscious that God is with us and walking with us in these trials, realising that God is bigger and greater that our problems, may we continue to stay hopeful and strong in the Lord!
Suffering in the trials,
I depend on His strength.
For I know I am limited,
But God is all powerful.
God sees the bigger picture,
And all I can do is to count on Him.
I may be suffering now,
Feeling so exhausted,
I want to find my way out,
I long for these trials to end.
But I know,
That God is always with me,
And He will provide a solution.
Therefore my soul will not fear;
I will start to fix my eyes on Jesus and believe that,
When everything is over,
My faith's gonna arise.
So, Lord,
Let me continue to trust you in this situation that you have placed me in.
So that when everything is over
I shall give you the praise and glory that you deserve
For you alone are worthy...
Blessed are those whose help is the God of Jacob, whose hope is in the LORD their God.
Psalm 146:5