Once when I felt so condemned due to sinning, I decided to turn away from God. Feeling so unworthy, I ran as fast as I could trying to play hide and seek with the Lord. But this was what He told me…
"My child, always remember that my arms are always opened for you, waiting for you to come back. All you need to do is to turn back to me, and I will embrace you with my loving arms."
Till today, I always thank God for giving me this second chance to come back to Him. Without him, I wouldn't be where I am today. Thank you Jesus!!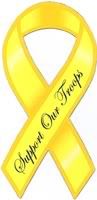 PS: Jesus supports yellow ribbon, because He is a God of second chances!! :p
They refused to listen and failed to remember the miracles you performed among them. They became stiff-necked and in their rebellion appointed a leader in order to return to their slavery. But you are a forgiving God, gracious and compassionate, slow to anger and abounding in love. Therefore you did not desert them, even when they cast for themselves an image of a calf and said, 'This is your god, who brought you up out of Egypt,' or when they committed awful blasphemies.
Nehemiah 9:17-18
Has God forgotten to be merciful? Has he in anger withheld his compassion?
Psalm 77:9