See the light after darkness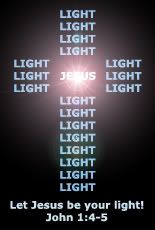 I think most of us, Christians, before we had God in our life; we lived in darkness because we did not know what salvation was. Maybe sometimes we did not feel loved or we did not know what our purpose in life was.
After we became Christians and we received God's love upon our life, didn't our life turn to life? I believed most of us would want our friends to receive the same light that we had. But most of the time its hard for us let our friends know about this salvation because of fear.
What God told to us was this:
'For you were once in darkness, but now you are light in the Lord.'
Ephesians 5:33
Live, then, as the way God wants us to live in. many darkness parts of your life can be through the test of faith. Maybe sometimes when we don't pass the test of faith we may feel like giving up on God. I was once like that. But God used someone to give me encouragement with this sentence: you will see a light after a tunnel. This made me feel that I should not give up on Him and especially my friends.
Maybe we feel that the darkest parts of our life are too hard to bear. I hope that you will have comfort and not give up of the knowledge you are receiving now, that God is assuring you: never will I live you, never will I forsake you.
This is the same concept where you want to switch on the room of your light. There will always be light after darkness. Relate this theory to your darkest parts of your life and I pray that you will start gaining strength that a light will always the reward you receive.
Lets all rejoice in the Lord always (Philippians 4:4). For His light is always leading us, till eternity.....